| | | |
| --- | --- | --- |
| Type | Content | Other |
| Country | Italy | |
| Competences | Tangible User Interfaces, APP development, technical issues, exploitation, business analysis, support in the co-creation of OERs | |
| Type of Organization | Start-up | |
Short CV
Smarted srl is an innovative start-up (under Law 221/2012) which was created as a spin-off of scientific research activities of its members in the field of Cognitive Science. It was born with the goal of developing innovative applications in order to support activities / needs of the socio-cognitive of people (such as play, learn, teach, support and maintain neuro-cognitive functions). The company works closely with major universities and research centers, including the Institute of Cognitive Sciences and Technologies of the CNR and the Natural and Artificial Cognition Lab (NAC) of the University of Naples Federico II from which comes the cultural background and its scientific activities. Moreover, Smarted srl has active collaborations with major industrial and Italian commercial enterprises (Walden Technology srl, Engineering SpA, Xiwrite srl.), network of enterprises (Confidustria, Digital SME Alliance) and association (Fondazione Mondo Digitale, All Digital Europe). Although the company is newly established (2017), researchers who are part of the company have many years of experience in the development and management of scientific research projects and the production of scientific material. This experience has led to the development of interactive objects/prototypes such as simulations, Robots, Serious Games, Role Playing and interactive learning platforms. The company SMARTED is now participating in four Erasmus Plus Funded projects. Regarding those projects, the first two are completed, the last two are ongoing. The projects are:
• ACCORD (Attain Cultural integration through COnflict Resolution skill Development) [www.accordgame.eu] – Erasmus Plus – KA3 – Grant Agreement n° 580362-EPP-1-2016-1-ITEPPKA3- IPI-SCO-IN ACCORD aims support teachers in handling conflict and dealing with cultural diversity by creating, assessing and upscaling an integrated online pedagogical practice that combines conceptual material through MOOC delivery and Serious Games for practical, experiential and hands-on learning.
• DoCENT (Digital Creativity ENhanced in Teacher Education) [www.docent-project.eu] – Erasmus Plus – KA2 – Grant Agreement n° 2017-1-IT02-KA203-036807 DoCENT project's main goal is to make teacher educators adopt pedagogical strategies that foster creativity and innovation. This project is part of EU policies incentives to boost digital and creative competences, so important for success and development of today's society. In this line DoCENT model will use the following approaches: manipulative technologies, robotics, digital making and digital games, that can be applied to any subject, I.e. STEM, social studies and creative expression.
• ALEAS (Adaptive LEArning in Statistics) [www.aleas-proect.eu] – Erasmus Plus KA2 – Grant Agreement n° 2018-1-IT02-KA203-048519 The core of the ALEAS project is the development and implementation of an adaptive learning system (ALEAS) that will be realized exploiting the most innovative and digital technologies embedded in an open access framework (MOOC), by developing an APP for statistics exercises based on the Adaptive Tutoring Systems.
• EULALIA (Enhancing University Language courses with an App powered by game-based Learning and tangible user Interfaces Activities) – Erasmus Plus KA2 – Grant Agreement n° 2019-1-IT02-KA203-063228 In all these projects the company is responsible of the development of a Serious Game based on a role-playing game or the project's APP under the technological point of view. In addition, the company has created an APP for Android that aims at improving the communications skills in people with special needs or multisensory disabilities.
See the video on the National Italian TV Channel (RAI2 – Medicina 33), where the CEO of Smarted Raffaele Di Fuccio, shows the Application. https://youtu.be/ywys7JN5kzA (Interview in Italian).
Main Contact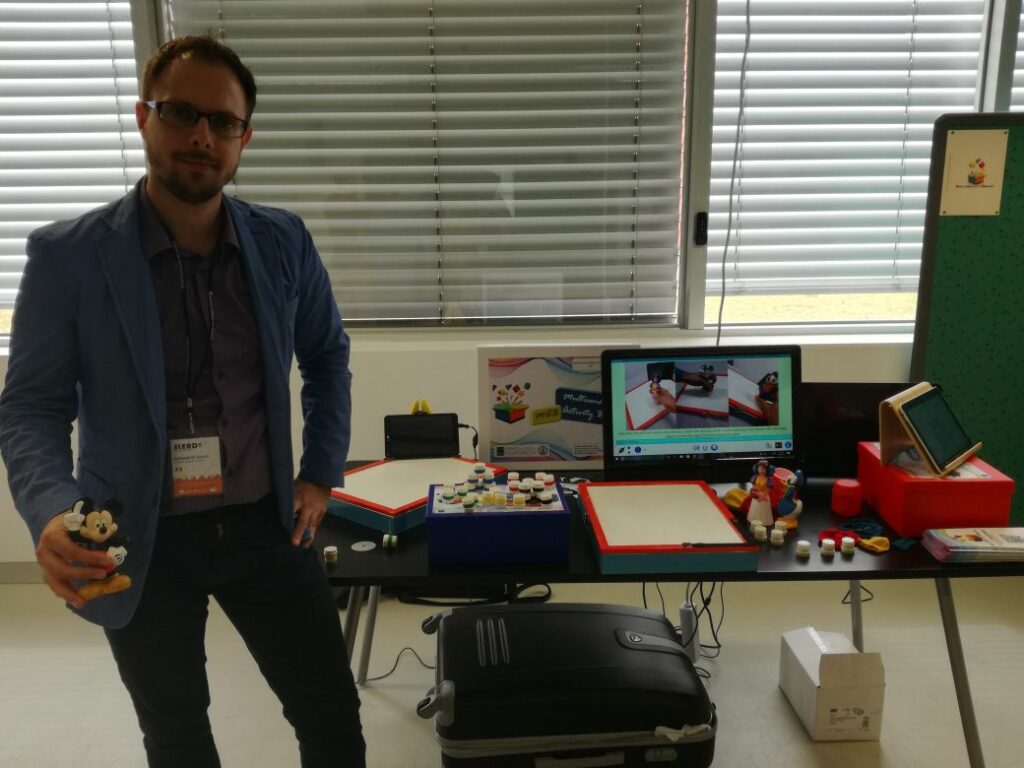 Raffaele Di Fuccio:
raffaele.difuccio@gmail.com
WebSite